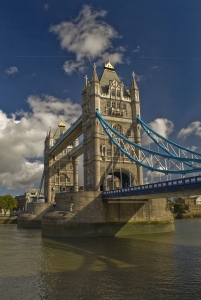 For the first part of my 'Travel Thursdays' series, I'd like to look at studying English in London.
Every year, thousands of students from all over the world come to London to study English. Why is London such a popular place to study English, though?
1. Quality of schools. Lots of famous multinational English school chains have schools in London but there are also many excellent independent ones. When choosing a school in London, make sure it is accredited by the British Council and English UK. These organisations go around checking the quality of facilities and teachers in schools and only accredit those that reach or exceed their strict requirements.
2. Culture. While studying English in London, many students make the most of their time by visiting museums, galleries, theatres and concerts when they are not at school.
If you are interested in history, London's the place for you! You can visit historic sites and learn about the way the English language has changed over time. To learn more about the history of the English language, Melvyn Bragg's excellent The Adventure of English: The Biography of a Language
is a great resource.
3. Work. Depending on your visa, you may be eligible to work part-time while you are there. Working in an English-speaking country is really a great way to put your skills to the test and practise English in a real-life context. Having a bit of extra money in your pocket is useful in London, too because it's a very expensive city.
Taking a part-time job is a great way for students who have just left college to get some work experience. Having worked in London is likely to impress future employers, too even if your work doesn't involve speaking English.
4. Fun. There's always something to do in London. Whether you're interested in sports, clubbing or cultural events, there will be something for you to do every day. Whatever you are doing in London, you will be practising using English with native-speakers all the time.
5. Friends. Studying overseas is an intense experience and many people form strong friendships with their classmates and teachers. It's a great chance to make friends from all over the world who you can continue to stay in touch with even when you get back home.
Many people choose homestays for accommodation in London and it's common to become great friends with your host family. I've even heard of host families going on vacation to see former students when they have returned home.
Most famous schools:
International House http://www.ihlondon.com/
St. Giles International http://www.stgiles-international.com/
Oxford House College http://www.oxfordhousecollege.co.uk/
Malvern House College http://www.malvernhouse.com/
Shane Global http://www.shaneglobal.com/
Great guide books:
London (City Guide)
The Rough Guide to London 7 (Rough Guide Travel Guides)
Summary:
Good things about studying in London
academic quality
access to cultural resources
potential to work (subject visa requirements)
entertainment
direct flights from all over the world
Bad things about studying in London
Today's image is by Mihow.