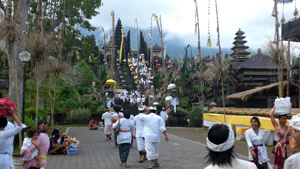 We've had an interesting time at the World of Words this week. We spent a day following Hillary Clinton on her European tour, learnt some ways to inject some fun into your language studies, and saw a very interesting scheme to keep couples together in Malaysia. There was even time for a quick day off on Wednesday to celebrate Galungan.
If there are any readers out there interested in learning about Bali, leave a comment and let me know. It's a topic I have thought of writing about but wasn't sure if anyone was interested.
It's that time of the week again. Time to test your vocabulary. Time to test your knowledge. Time to test how much you are looking forward to the weekend! Have a great weekend, everyone. Happy Galungan and merry Kuningan, too!
Today's photo is by Wil Procter