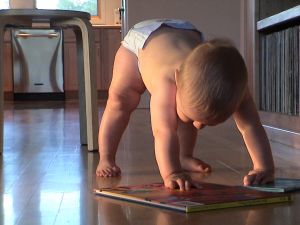 Fear of making mistakes in a new language is a common problem and holds a lot of people back from developing their speaking skills.
Obviously, if you are in an exam, you need to make sure your grammar is accurate in order to get a good mark. If you're just practising, though, making mistakes is a natural part of the learning process.
An easy way to think of this is like a child learning to walk. Even with a lot of help from their parents, toddlers always fall over now and then when they are learning to walk or run. It's a natural part of the process.
Sometimes, toddlers fall over because they are walking too fast. Sometimes, it's because their balance isn't quite right yet. Whatever the reason for falling over, they learn from their mistake and it helps them move onto the next level with their skills.
It's exactly the same with learning a language. In my experience, the aspects of languages I've learnt that I remember best are those that I've made mistakes with and had to learn from my own mistakes. I've observed the same thing with students in class, too.
When speaking outside the classroom, there's another important reason not to be afraid of making mistakes – most people won't notice. Most of the time, when people are listening to another person speaking, they just hear the main 'key' words that carry the most important information.
For example, if you said "Where ya yo" with the 'where' nice and clear, and the 'ya yo' quiet, most people would respond "I'm going to (place)". Because they hear the key word and something afterwards that sounds a little similar to 'are you going', their brain puts it in context and automatically makes them think of the correct answer.
Of course, if you make a mistake that interferes with the meaning of your sentence, someone might not understand you. If this happens, nobody is going to get angry with you (When was the last time you got angry with someone who said something you couldn't understand?). People will just ask you to repeat whatever you said. Then you can rephrase it and learn from the experience.
I am not saying that it's not important to try and learn how to speak accurately. I'm just trying to show that sometimes, worrying about the negative things (fear of mistakes) and not focusing on the positive things (having fun expressing yourself) can hold you back.
Learning a language is like learning a sport or musical instrument. It's important to do a lot of exercises and preparatory work, but, very often, the time we make the most progress is when we relax.
Today's image is by Ramona Gaukel.