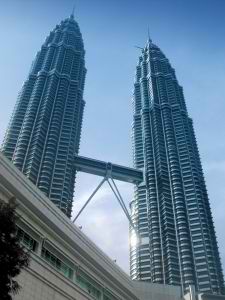 As I mentioned yesterday, I'm on a trip to Malaysia at the moment. I speak a little Malay, enough to hold a simple conversation, but I'm always amazed at the level of English spoken there. In major cities in Malaysia, you will hear people speaking English fluently wherever you go.
It seems that the national school system teaches English really well and most students don't need to take extra supplementary classes after school. Despite this, there are some great English language schools. The most famous are probably those run by the British Council, but there are lots of other options, too.
Malaysia is similar to Singapore in that English is widely-spoken in everyday life. This is what makes it it such a great place to learn English. Even after class is over, you can practise speaking in shops, restaurants or bars.
There's loads to see and do in Malaysia. Beach-lovers will enjoy Langkawi. People interested in history can visit the beautiful port of Melaka. The famous Petronas Towers in Kuala Lumpur are not to be missed, too.
The thing I like most about Malaysia, though, is the food! Malaysian cooking is amazing. It's diverse, with influences from the Chinese, Indian and Malay communities. It's delicious (Malaysians pride themselves on their food culture). It's cheap, too.
In general, living in Malaysia isn't expensive. If you are in Kuala Lumpur, the subway is a good, cheap way to get around. Accommodation is not expensive either with budget hotels starting at about US$30 per night.
Flights to Malaysia, too. AirAsia, a budget airline based in Malaysia has some great deals for both short-haul and long-haul flights.
The only negative think I can think of about learning English in Malaysia is that the food might be too good! Be prepared to come home weighing more than when you left!
Today's image is by Hoosablink.