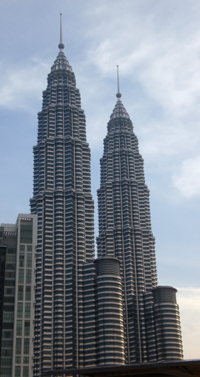 While I was travelling to Malaysia last week, I started thinking about the specific English vocabulary used for travelling by plane. Here's a little story containing some useful travel vocabulary. See if you can guess what the words in black mean, then check your answers at the bottom.
I am an early bird so it was easy for me to get up at 3:30am for my trip to Malaysia. My brother-in-law came to pick me up at 4am and gave me a lift to the airport.
When I got to the airport, I went straight to the check-in counter and collected my boarding pass. I didn't have any check-in luggage, because I like to travel light. I had one small piece of carry-on luggage containing all the things I needed for the next three days.
I walked straight through the departure area, past the duty-free shops, to the gate, where I waited until my plane was boarding. When they opened the gate, I boarded the plane and took my seat next to the window. I prefer window seats because I like to see the view. Aisle seats are nice for longer flights, though, because it it easier to get up and walk about.
The flight was comfortable but there was a little turbulence halfway through and I almost spilt my tea. We arrived at Kuala Lumpur airport five minutes early.
After getting off the plane, I went through immigration, walked past the baggage carousel and through the 'nothing to declare' lane in customs. Then I got on a shuttle bus to the city centre, ready to start my vacation
early bird

– someone who wakes up early in the morning

give someone a lift

– take someone somewhere in your car

check-in counter

– where hand over your ticket and passport and are given the pass that will allow you onto the plane

boarding pass

– the piece of paper given to you at the check-in counter which you need to show to be allowed on the plane

check-in luggage

– bags that travel in the separate storage compartment in a plane

carry-on luggage

– bags you take into the cabin of the plane with you

travel light

– to travel with little luggage

duty-free shops

– where you can buy things without needing to pay tax

gate

– entrance to the walkway to the plane

boarding

– when people get on the plane

window seat

– seat next to the window

aisle seat

– seat next to the central passage of the plane

turbulence

– when the plane shakes around in the sky

immigration

– where your travel documents are checked and you are given permission to enter the country

baggage carousel

– the moving belt from which people collect their luggage

customs

– check you are not bringing anything illegal into a country or that you are trying to hide something you should be paying tax on

Items to declare

– where you go if you are carrying something you need to tell the customs officials about

Nothing to declare

– where you go if you do not need to inform the customs officials about anything you are carrying.

shuttle bus

– a bus that only stops at two places
Where did you go on your last vacation? How was your flight?