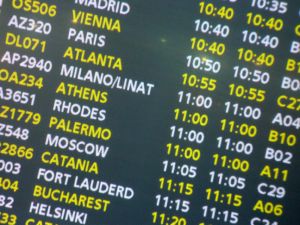 Continuing with our Improve your English reading skills series, this week let's look at scan-reading.
When do we 'scan'?
We scan-read when we already know what information we are looking for. For example:
when we are reading a train timetable
when we are looking for an entry in a dictionary
when we are looking for a name in a phone book
when we are looking for information on a specific point in a non-fiction book
How to do it:
Don't read every word

, just look for keywords related to the information you need.

Don't just read from left to right

. It's important to be flexible when scanning. Sometimes looking from the top to the bottom of the page to find the title, subtitle, or information you are looking for is more efficient.

Don't let irrelevant information distract you.

Focus on what you are looking for and ignore parts of the text that are not related to it.

Be prepared to change your reading style.

Once you spot the information you need, you will need to change your reading style and focus on reading for detail. We'll look at that aspect in more detail next week. After you have found out whatever it was you were looking for, you can switch back to scanning and continue reading through the rest of the document.
What documents have you 'scan-read' recently?
Today's image is by Monique.